Company news
04/01/2018
In April 2018 Aviazapchast PLC turned 50 years!
Our company begins its history from the association AviaZagranPostavka established in accordance with the Order of Council of Ministers of the USSR dated December 26, 1967, and the Order of Ministry of Aircraft Production dated January 19, 1968 No. 27. The enterprise was tasked with providing civil aircraft operation abroad. It was governed directly by the Deputy Minister of Aircraft Industry of the USSR and had a right to carry out operations needed throughout the territory of the Soviet Union needed to fulfill the tasks entrusted to it. "Birthday" of EA AviaZagranPostavka is considered to be the 1st of April, 1968.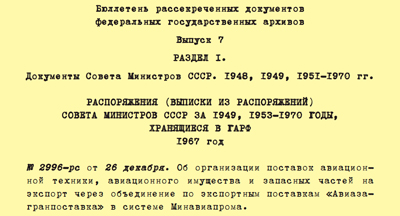 Bulletin of declassified documents of federal state archives
Edition 7
Part 1.
Documents of Council of Ministers of the USSR. 1948, 1949, 1951-1970.
ORDERS (EXTRACT FROM ORDER) OF Council of Ministers of the USSR FOR 1949, 1953-1970 STORAGED IN STATE ARCHIVE OF THE RUSSIAN FEDERATION.
1967
No. 2996-rs dated December 26. On organization of supplies of aircraft equipment, aircraft stores and spare parts for export through the association on export supplies Aviazagranpostavka in the system of Ministry of Aircraft Industry.
Half-century operations of our company are inextricably linked to the history of the country and its aircraft industry. Over the past years we have travelled a tortuous path from the state structure to Public Limited Company Aviazapchast carrying out foreign trade activity.
We are proud of our past and have optimistic prospects as to the future. Its key is a vast experience and high qualification of our staff, compounded by a conscientious attitude to business and quest for eventual result. The motto of Aviazapchast PLC – "Efficiency, quality and reliability" further remains the mail principle of our operation.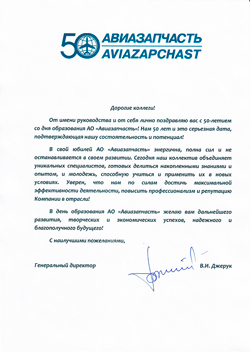 50 AVIAZAPCHAST
Dear Colleagues!
On behalf of the management and on my own behalf I wish to congratulate you on the 50th anniversary of the establishment of Aviazapchast PLC. Now we are 50 and it is a serious date confirming our strength and potential!
On its anniversary, Aviazapchast PLC is ambitious, full of energy and never stops in its development. Today our staff brings together unique specialists who are ready to share their knowledge and experience and young people who are able to learn and apply their knowledge in new conditions. I am sure that we are able to achieve maximum efficiency, improve qualification and reputation of Company in the industry! On the day of Aviazapchast PLC establishment I wish you further development, creative and economic success, reliable and prosperous future!
Sincere regards, General Director V.I.Dzheruk